Introduction:
Yesterday had me in Vina del Mar , Chile.  I arrived here yesterday from Santiago.  After taking a short nape, I went to the beach are to walk on the beach front along Ave San Martin, take some photos, and have dinner.  In this post I will provide the following:
A short background on Vina del Mar (VdM),
Views of the beach from my beach walk
Resterante Tierra del Fuego (TdF), and
Sunset on the Pacific at VdM from TdF
Vina del Mar (Vineyard of the Sea) Map
Viña del Mar is a city on the central coast on Chile's Pacific Coast.  It has beautiful beaches an is a major tourist city for all of Latin America, and a weekend getaway for residents of Santiago.  VdM is part of the Valparaiso Metropolitan Area.  Currently, VdM has more than 300,000 inhibitants.
VdM is called the Garden City because it has a lot of green areas and large parks along it. It has also been recognized for its original architectural style suburban "fifth houses" established by the British resident in Valparaiso who had their summer homes amenities at Viña del Mar in the late nineteenth century.
Below is a map showing Vina del Mar and the areas discussed in this post.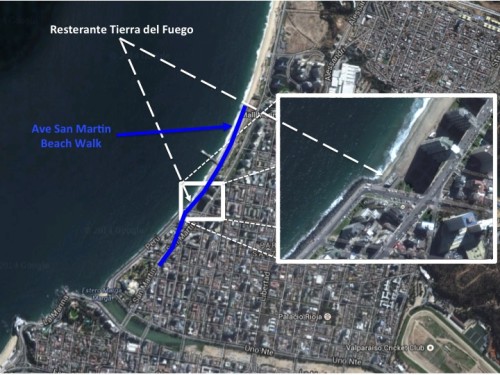 Walking the beach in Vina del Mar along Ave San Martin
My walk along the beach was to the north the to VdM downtown Besides the beach, one cannot help but notice all of the beautiful (depends on your definition of beauty) condos.  Below are some pictures taken during my beach walk.
My walk started about Quince Nte (15th Street) and Ave San Martin (ASM hereafter) heading south.  One of the first thing you encounter are artisan booths selling various items.  I did not see any booths that had any well made items.  I would not go out of my way to visit or spend any time visiting the artisan booths.   Below is a photo that I took at the start of my walk south.
Resterante Tierra Del Fuego
I noticed TdF as I was walking south at the esquina (corner in English) of Peru and San Martin.  Since I was hungry, and only had toast and coffee for breakfast (It was not about 4 PM in the afternoon), I decided the check in out.  Below is a picture of TdF from the beach front.
Muelle Vergara is an old pier used in Vina del Mar.  It was later converted to a tourist location with shops and restaurants, but the only thing remaining is the old crane used previously to loan and off-load ships.  When I walked past the pied, it was closed with a signed that said that there is some kind of construction that would be happening in the future. Inside TdM, I had a Pisco Sour, a salad, and puré de patatas (mashed potatatoes).  There is a beautiful view inside.  Some of the photos I told with details are provided below.
 Overall, the food at TdF tasted good and reasonably priced.
Following the sun sinking into the Pacific Ocean
I wanted to get some pictures of the sun sinking in the Pacific to the southwest of TdF.  Below are the pictures I took to complete this post.  It took about 45 minutes for the sun to set.  These photos were taken between the time I stepped outside of TdF until the sun disappeared over the horizon.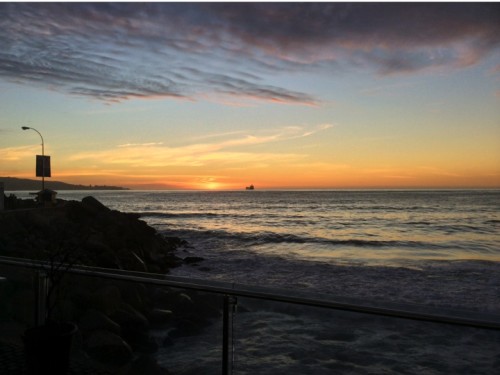 This completed my first of two nights in Vina del Mar de Chile.  While what I did was all of the typical tourist stuff, I really enjoyed my walk on the beach, Restaurante del Fuego, and the wonderful sunset to be seen in Vina del Mar de Chile.  I am I will return again to Vina del Mar.  This is maybe the prettiest and most peaceful place I have visited in Latin America del Sur (South America to you gringos).